To create a new App Engine project: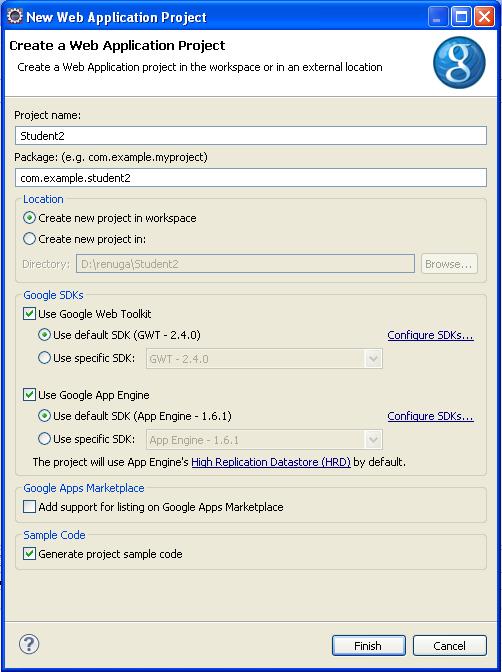 3.See to that whether Use Google App engine Check box is checked or not. If required,check the Use Google Web Toolkit option also.
4.To install App Engine SDK separately, click Configure SDKs and add the SDK configuration to SDK's appengine-java-sdk/ directory.
5.Select Finish button, to create the project.
The complete directory structure looks like this: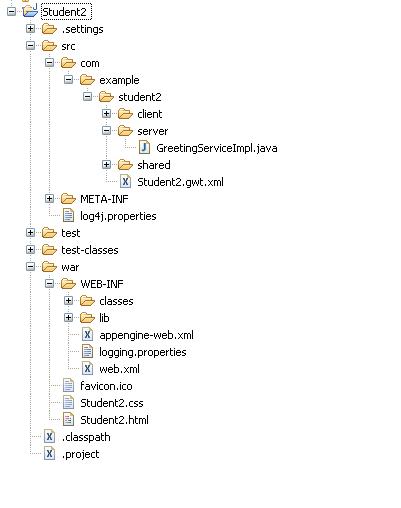 The project's directory structure includes a src directory for Java source files, and a war directory for compiled classes and other files such as libraries, configuration files, static files. It d also creates a servlet source file and two configuration files.
The war directory uses the WAR standard layout for bundling web applications. (WAR archive files are not yet supported by the SDK.) The Eclipse plugin uses this directory for running the development server, and for deploying the app to App Engine.
When Eclipse builds your project, it creates a directory named classes/ in war/WEB-INF/, and puts compiled class files here. Eclipse also copies non-source files found in src/ to war/WEB-INF/classes/, including META-INF/ and the log4j.properties and logging.properties files. The final contents of the war/ directory make up your application for testing and deployment.