Installation of the Google Plugin using Eclipse
We can install the Google Plugin for Eclipse using the Software Update option of Eclipse.
Using Eclipse 3.5, the Google plugin can be installed.
The Steps to be followed:
In the Help menu —>Select Install New Software….
2.Enter the link in the Work with text box : 
http://dl.google.com/eclipse/plugin/3.5
Click the Add… button. A dialog box will open in that leave the localname textbox as empty. The name will be uploaded automatically from the site. Click OK.

3.Click the checkbox next to Google Plugin for Eclipse and SDKs. Click the Next button. Accept the terms of service and install the plugin.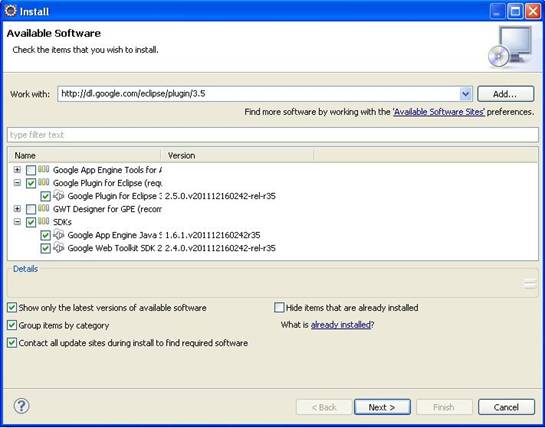 4.After the installation gets completed, Eclipse shows the information about to restart. Click Yes for restarting the Eclipse alone. Now the plugin is installed successfully.