LookupDispatchAction Class
LookupDispatchAction same as a  DispatchAction.
Here  will use more methods to control one action,one model,one controller,one view page.
For example  will use more button in one page like add,delete, update to control one controller and model class.
In this class UserAction extends org.apache.struts.actions.LookupDispatchAction. Normal Action class invoke execute() method.But in this This class not invoked execute() method.It will be  invoked separate method  like as method="add" ,method="delete",method="update"  which  the method  will be use the parameter in the view page.
In this will use Properties file  will be  change the button values future . 
Step by Step tutorial on running  your  LookupdispatchAction Struts application in Tomcat5.5 with Eclipse IDE
Step – 1 Creating Dynamic web Project
Step – 2 LookupdispatchAction STRUTS folder structure
Step – 3 Creating your  LookupdispatchAction  Struts program(Controller & Model)
Step – 4 Creating web.xml for LookupdispatchAction struts application
Step – 5 Creating Struts-config.xml
Step – 6 LookupdispatchAction Struts view page
Step – 7 How to Add server in  LookupdispatchAction Struts application
Step – 8 OutPut  for  Running  LookupdispatchAction Struts application

SOURCE CODE
Step – 1 Creating Dynamic web Project
Start Eclipse and goto File -> New -> Project -> Dynamic Web Project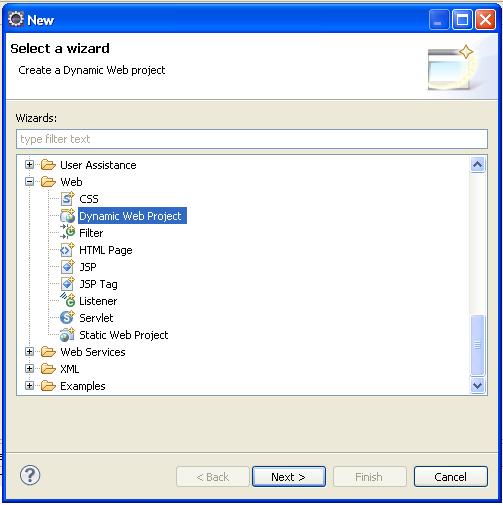 Step – 2 LookupdispatchAction STRUTS folder structure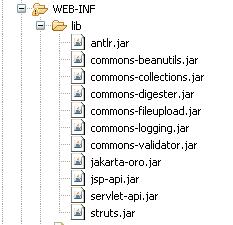 Download The Following TLD files  and paste into WEB-INF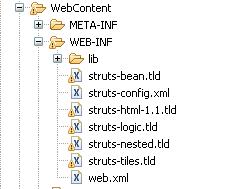 ApplicationResource.properties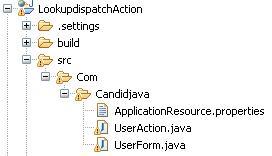 Following is the list of required JAR files to be added in Java Class Path of your project. Download displaytag JAR files from
Step – 3 Creating your  LookupdispatchAction  Struts program(Controller & Mymodel& properties)
UserAction.java

package Com.Candidjava;

import javax.servlet.http.HttpServletRequest;
import javax.servlet.http.HttpServletResponse;

import org.apache.struts.actions.LookupDispatchAction;
import org.apache.struts.action.ActionForm;
import org.apache.struts.action.ActionMapping;
import org.apache.struts.action.ActionForward;
import java.util.*;

public class UserAction extends LookupDispatchAction {

	/* forward name="success" path="" */
	private final static String SUCCESS = "success";

	protected Map getKeyMethodMap() {
		Map map = new HashMap();
		map.put("UserForm.add", "add");
		map.put("UserForm.update", "update");
		map.put("UserForm.delete", "delete");
		return map;
	}

	public ActionForward add(ActionMapping mapping, ActionForm form,
			HttpServletRequest request, HttpServletResponse response)
			throws Exception {
		UserForm userForm = (UserForm) form;
		userForm.setMessage("Inside add user method.");
		return mapping.findForward(SUCCESS);
	}

	public ActionForward update(ActionMapping mapping, ActionForm form,
			HttpServletRequest request, HttpServletResponse response)
			throws Exception {
		UserForm userForm = (UserForm) form;
		userForm.setMessage("Inside update user method.");
		return mapping.findForward(SUCCESS);
	}

	public ActionForward delete(ActionMapping mapping, ActionForm form,
			HttpServletRequest request, HttpServletResponse response)
			throws Exception {
		UserForm userForm = (UserForm) form;
		userForm.setMessage("Inside delete user method.");
		return mapping.findForward(SUCCESS);
	}

}

UserForm.java

package Com.Candidjava;

import javax.servlet.http.HttpServletRequest;
import org.apache.struts.action.ActionForm;

public class UserForm extends ActionForm {

	private String message;

	public String getMessage() {
		return message;
	}

	public void setMessage(String message) {
		this.message = message;
	}

}

ApplicationResource.properties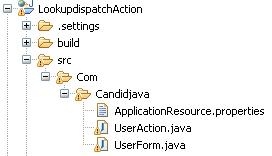 UserForm.add = Add

UserForm.update = Update

UserForm.delete = Delete


Step – 4 Creating web.xml for LookupdispatchAction struts application
web.xml

<!DOCTYPE web-app PUBLIC "-//Sun Microsystems, Inc.//DTD Web Application 2.3//EN" "http://java.sun.com/dtd/web-app_2_3.dtd">
<web-app>

	<display-name>Struts Blank Application</display-name>

	<servlet>
		<servlet-name>action</servlet-name>
		<servlet-class>org.apache.struts.action.ActionServlet</servlet-class>
		<init-param>
			<param-name>config</param-name>
			<param-value>/WEB-INF/struts-config.xml</param-value>
		</init-param>
		<init-param>
			<param-name>debug</param-name>
			<param-value>2</param-value>
		</init-param>
		<init-param>
			<param-name>detail</param-name>
			<param-value>2</param-value>
		</init-param>
		<load-on-startup>2</load-on-startup>
	</servlet>

	<servlet-mapping>
		<servlet-name>action</servlet-name>
		<url-pattern>*.do</url-pattern>
	</servlet-mapping>

	<welcome-file-list>
		<welcome-file>index.jsp</welcome-file>
	</welcome-file-list>
	<taglib>
		<taglib-uri>/tags/struts-html</taglib-uri>
		<taglib-location>/WEB-INF/struts-html.tld</taglib-location>
	</taglib>
	<taglib>
		<taglib-uri>/tags/struts-bean</taglib-uri>
		<taglib-location>/WEB-INF/struts-bean.tld</taglib-location>
	</taglib>

</web-app>

Step – 5 Creating Struts-config.xml

<?xml version="1.0" encoding="UTF-8" ?>

<!DOCTYPE struts-config PUBLIC
          "-//Apache Software Foundation//DTD Struts Configuration 1.2//EN"
          "http://jakarta.apache.org/struts/dtds/struts-config_1_2.dtd">

<struts-config>
	<form-beans>
		<form-bean name="UserForm" type="Com.Candidjava.UserForm" />

	</form-beans>

	<action-mappings>
		<action input="/index.jsp" name="UserForm" parameter="method"
			path="/UserAction" scope="session" type="Com.Candidjava.UserAction">
			<forward name="success" path="/index.jsp" />
		</action>

	</action-mappings>

	<message-resources parameter="Com.Candidjava.ApplicationResource" />

</struts-config>

Step – 6 LookupdispatchAction Struts view page 

index.jsp

<%@ page language="java" contentType="text/html; charset=ISO-8859-1"
	pageEncoding="ISO-8859-1"%>
<%@taglib uri="/WEB-INF/struts-bean.tld" prefix="bean"%>
<%@taglib uri="/WEB-INF/struts-html-1.1.tld" prefix="html"%>
<!DOCTYPE html PUBLIC "-//W3C//DTD HTML 4.01 Transitional//EN" "http://www.w3.org/TR/html4/loose.dtd">
<html>
<head>
<meta http-equiv="Content-Type" content="text/html; charset=ISO-8859-1">
<title>Insert title here</title>
</head>
<body bgcolor="pink">
<html:form action="UserAction.do">
	<table>
		<tr>
			<td><bean:write name="UserForm" property="message" /></td>
		</tr>
		<tr>
			<td><html:submit property="method">
				<bean:message key="UserForm.add" />
			</html:submit></td>
		</tr>
		<tr>
			<td><html:submit property="method">
				<bean:message key="UserForm.update" />
			</html:submit></td>
		</tr>
		<tr>
			<td><html:submit property="method">
				<bean:message key="UserForm.delete" />
			</html:submit></td>
		</tr>
	</table>
</html:form>

</body>
</html>

Step – 7 How to Add server in  LookupdispatchAction  Struts application
Window –>show view—->servers—>add new–>          
Select ther version which you installed in your System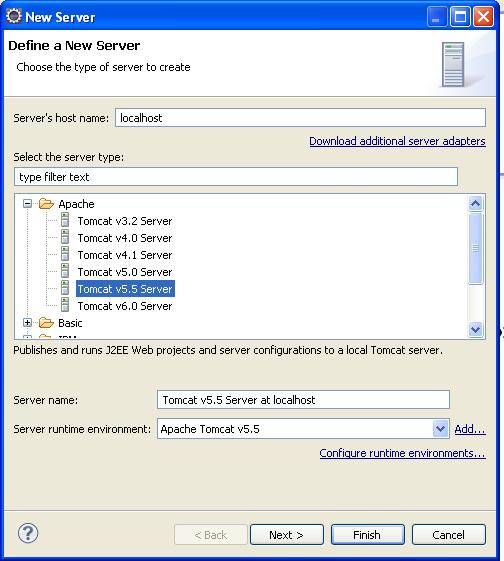 How to run the Project:
Right click on project name———–>click Run As —> Run On Server
Step – 8 OutPut  for  Running  LookupdispatchAction Struts application:
DOWNLOAD + SOURCE CODE                                                                                                                                                                                                               

BACK